Upcoming Events
This page is not longer updated, please check out our events at www.facebook.com/UofAPS.
September Events
Thursday, September 25 2013 @ 5:00 in G217
Fossils and Mythology Talk Free talk presented by Gavin Bradly.
Thurday, September 18, 2014 4:00PM in buisness Quad
Welcome Event We will be selling memberships for $5 and giving out free chilli with membership. There will also be a alternative for vegetarians.
March Events
Thursday, March 13, 2014 @ 5:00 in BioSci G217
Dinosaur Movie Night! Stop by for an evening our favorite Mesozoic giants appear on the silver screen. Feel free to bring snacks!
Thursday, March 20, 2014 @ 5:15 in BioSci G217
Victoria Arbour will be presenting this month's talk! Topic TBA.Yearly elections (and pizza!) will follow.
UofAPS 2014-2015 Elections!
Are you a UofA student? Do you want to get involved with the UofA paleontology community? If so, then we are looking for you! The University of Alberta Palaeontological Society (UofAPS) is looking for new executive members for the 2014-2015 school year, and would love to have you run for a position. This is a fun way to meet others in the field (undergraduates, grad students, and staff) and to be part of a team that promotes paleontology within the larger community. The Society meets once a month to plan out monthly events such as talks and social events. The elections will take place March 20th, after our monthly talk (talk starts at 5:15pm) in BioSci G217. There will be pizza after the talk/during the election!
Possible positions are: President (undergraduate student only), Vice President, Secretary, Vice President Finance, Vice President Social, Vice President Communications, Vice President External, and Vice President Academics. Details for these positions can be found further below.
If you have any questions, would like to run for a position, or if you would like to run for a position but can't make the election on the 20th, please feel free to contact us.
Cheers,
Katherine Bramble
President
University of Alberta Palaeontological Society
Position details:
President: to oversee all meetings and make final decisions if necessary about Society policies and events, as well as represent the Society in any matter which requires involvements with other campus groups. Preferably someone with previous experience on the executive. Must be an undergraduate student.
Vice President: To co-chair all meetings and assist the President in running the Society, as well as represent the Society, when the President is unavailable, in any matter which requires involvement with other campus groups.
Secretary: To take minutes at all meetings and ensure all members who are not in good standing have their memberships revoked.
Vice President Finance: To oversee all monetary transactions and keep records of these transactions.
Vice President Social: To organize social functions, both solely for member and for non-members, and to investigate fundraising opportunities.
Vice President Communications: To coordinate promotion of the Society and its various functions to prospective and current members. This will be done via emails, Facebook, updating the group website, making posters, etc.
Vice President External: To organize all interactions with outside organizations, especially the Alberta Palaeontological Society and the Canadian Palaeontological Society. The annual silent auction will the the main responsibility.
Vice President Academics: To organize all academic functions, such as lectures, seminars, round table discussions, etc.
Day Trip for a Behind the Scenes Tour of the Royal Tyrrell Museum!
We will meet at
7:00 AM
in the ESB parking lot (You read that right. 7 in the morning.)
Cost: $15 per person (that includes transportation, tour, and admission) NOTE that we have limited space on the tour and there are no spots presently available. (Updated Feb. 11th)
We will be receiveng a guided behind-the-scenes tour of the Preparation Labs and Collections area!
The University of Alberta Palaeontological Society's 5th Biennial Symposium
When: February 1st, 2014
Where: UofA, BioSci M-145
The University of Alberta Palaeontological Society invites you to attend for our 5th Biennial Symposium, to be held on February 1st, 2014 at the University of Alberta Department of Biological Sciences. The Symposium will be followed that evening by festivities and a silent auction at the Faculty club.
The schedule is:
9:45 am Registration
10:15am Bramble - Welcome
10:30am Bradley – Dinosaurs or Dragons: The cultural identity of fossils
10:50am Miyashita – Anatomy, Phylogeny, and Biogeography of Basal Eusauropod Lineages from the Jurassic of China
11:10am Burns – How did armoured dinosaurs grow? Histology informs development and ontogeny of ankylosaurs (Dinosauria; Ornithischia)
11:30am Coffee Break/Poster Session
11:45am Street – Paleopathologies in Mosasaurs
12:05pm Campbell – How did plesiosaurs swim? A review of the morphological, biomechanical & ecological clues to their locomotion
12:25pm Barclay – Using biomechanical experiments to understand the life orientation of dorsibiconvex brachiopods
12:45pm Lunch
1:45pm Funston – Understanding Alberta's caenagnathids: insights on anatomy and taxonomy from a new, articulated specimen
2:05pm Johnston – Albertosaurus sarcophagi: Speedy offspring or quick adults; the biomechanics during different developmental stages and the implications on potential hunting strategies.
2:25pm van der Reest – An Exceptionally-Preserved Ornithomimid from the Lower Most Dinosaur Park Formation Gives Important New Insights Into Feather Evolution.
2:45pm Coffee Break/Poster Session
3:00pm Sissons – Hesperornithid tibiotarsus from Khermeen Tsav (Nemegt Formation), Mongolia.
3:20pm Higginson – Breaking Bones; Taphonomic Fossil Damage
3:40pm Wolfe – How palaeoecology informs planetary climate futures: lessons from the Middle Eocene
4:05pm Coffee Break
4:20pm McKellar – Recent developments and future directions in the study of Canadian amber
5:00pm – Closing
5:30pm – Faculty Club After Party
Registration is free! Register for the symposium at: https://docs.google.com/forms/d/1vaZmkD1oaScjOSV8Qi0xBAKte3hc6dWJkovdFryu5L8/viewform
Details for the Faculty Club After Party - Tickets are $10 in advance and $15 at the door. Tickets will be sold outside the EAS main office on January 29th and in the CCIS PCL Lounge on January 30th. Tickets include one drink, and a large assortment of hors' dourves. The event will include a SILENT AUCTION, with proceeds going towards helping our society to continue bringing events. If you can not make either of the dates for ticket sales and would like the advance price, email us (uofaps@ualberta.ca) to arrange a time to meet.
We hope to see you there!
Interested in paleontology in Italy? Then check out Paleo 412, offered in Spring 2014!

Past Events
November Events
Wednesday, November 14th and Thursday, November 15th from 10am - 4pm in CCIS PCL Lounge Area (Near Second Cup)
MERCHANDISE PRESALE! Stop by to preorder this years new merchandise! We will have images of the finalized 2013-2014 designs as well as colour and size selection for T-shirts. Order now and get them by the holidays!
Prices are as follows:
-T-shirts (2013-2014)- image is attached "Life Finds A Way", in honour of the 20th anniversary of Jurassic Park: $20 each
-Steins (2013-2014)- image is attached "Steinosaurus": $20 each
-Previous years' t-shirts: $5 each
-Water Bottles: $5 each
-Stickers: $1 each
Thursday, November 21st at 5:00pm. Biosci G217
Come check out our November talk on "Top predator interaction in the last Alberta sea: the mosasaurs' success story" presented by Takuya Konishi! Learn about some awesome aquatic vertebrates.
After the talk, we are headed down to MKT for trivia night! Come for $4 pints and many laughs!
October Events
Wednesday, October 16th at 5:30pm. Hudson's On Campus.
Stop by for Wing Dinosaur Arm Wednesday! Who knew 66 million years could taste so good?
Thursday, October 17th at 5:15pm. BioSci G217
This month, we will have three 12 minute talks about some facinating invertebrates
Kristina Barclay presents "Braching the Mold: Biomechanic Tests of the Life Orientation of a Dorsibiconvex Brachiopod"
Ben Collins presents "Functional Morphology of Passibe Suspension Feeding in Composita (Brachiopoda, Athyridida)"
and Darrin Molinaro presents "Peeling Out Presation Intensity: Can Repain Frequency Be a Useful Proxy Towards Understanding Predation?"
Friday, October 18th: Deadline for Merchandise Design Submissions!
This year's merchandise theme is "Dinosaurs" to celebrate the recent 50th Anniversary of the University of Alberta Lab of Vertebrate Paleontology, which recently celebrated its 50th Anniversary and the popularity of the new DINO 101 course.
Welcome Event 2013 and First Talk
Wednesday, September 18 at 5:00pm. Patio in front of CCIS/main Quad
What better way to welcome everyone than with delicious pulled pork sandwiches! This event is also a great time to purchase membership for $5. Vegetarian option available.
Thursday, September 19 at 5:15. BioSci G217
Scott Persons is our first speaker, kicking off the year with his presentation entitled "The Science, Science Fiction, and Science Fantasy of Jurassic Park." It's promised to be a fun and entertaining way to start the year.
Final Talk of the School Year and Executive Elections
Thursday, March 21st at 5:15pm in BioSci G217
This talk will be split into three shorter ones, given by three paleontology undergraduates here at UofA.
Pizza will be provided, and after the talk we will hold our annual election for next year's executive.
Our 25th Anniversary Celebration!
March 6th, 2013, 5:30pm-11:00pm at the Faculty Club (11435 Saskatchewan Drive).
Tickets are $10 and include a beverage!

Enjoy a chocolate fountain as you converse with others in the community with a shared interest in paleontology and bid on the Silent Auction. Anyone and everyone is welcome.

Special guests include Dr. Michael Caldwell, Chair of Biological Sciences and founder of the University of Alberta Palaeontological Society.
If you would like to come, send us an email at uofaps@ualberta.ca, and we'll save a ticket for you.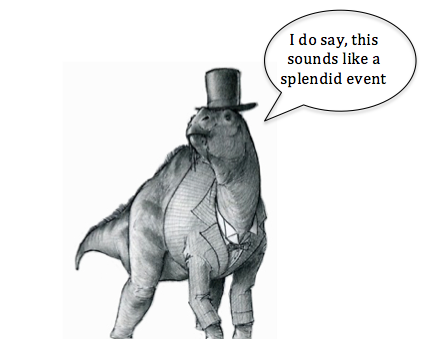 Original image by Robert Alicea
February Paleo Talk
February 27th, 2013, at 5:15pm in G217
The next talk in our series will be presented by Matt Vavrek. Topic: Social Dinosaurs: Building a Museum Exhibit in the Digital Age. Matt helped design the Ultimate Dinos exhibit at the ROM, so this is bound to be an interesting one!
For those who are interested, after the talk we can head over to Avenue Pizza as a group to continue the discussions.
Dino Wing Night with the Poultry Club
February 5th at RATT (Room at the Top, in SUB)
Tuesday night is wing night at RATT, and we will be combining our event with the UofA Poultry Club. Come out for an evening of fun and join in the conversation of how chickens are descendants of dinosaurs! We will meet at 6:30pm, but you may want to come a bit earlier in case it gets busy.
The Paleo Talks Continue!
January 31st, at 5:15pm, in BioSci G217
The wonderful Victoria Arbour will be giving a talk. Topic: When Saichania is not Saichania: The puzzling taxonomy of Mongolian ankylosaurs